Meet the Board
The Neoga District Library is governed by a seven- member board elected from Neoga Township and Ash Grove Township. Each member is elected for a four-year term. The board meets on the fourth Tuesday of each month at 7:00 p.m. in the library. A complete schedule of meeting dates for 2016 is available at the library and on this website.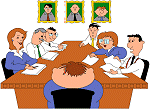 NEOGA DISTRICT LIBRARY 
                BOARD OF TRUSTEES                 
President

Sheryl Brandenburg

Vice-President

Gene Creek

Secretary

Barbara Titus



Treasurer

Lewis Ryder
_________________________________________________________



TRUSTEES

Elaine Edwards

Jenny Ballinger

Linda Page

 *********************************************************************

NEOGA DISTRICT LIBRARY

BOARD OF TRUSTEES MEETING DATES

The Neoga District Library Board of Trustees will meet in the library on the following dates in 2019.*

.

TUESDAY, JANUARY 22

TUESDAY, FEBRUARY 26

TUESDAY, MARCH 26

TUESDAY, APRIL 23

TUESDAY, MAY 28

TUESDAY, JUNE 25

TUESDAY, JULY 23

TUESDAY, AUGUST 27

TUESDAY, SEPTEMBER 24

TUESDAY, OCTOBER 22

TUESDAY, NOVEMBER 26

DECEMBER – NO DECEMBER MEETING

*ALL MEETINGS ARE SCHEDULED TO BEGIN AT 7:00 P.M.